Oops, you don't have javascript. You can fill out the form by clicking
here
.
Free WaterShield CD or DVD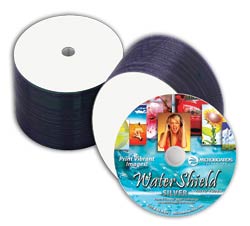 Fill out the form to receive your free WaterShield CD or DVD sample.
WaterShield blank media reproduces your artwork in full, vibrant colors and looks as good as thermal printed discs yet at inkjet pricing. It is also the best way to ensure your discs stay protected from harsh everyday elements. From Taiyo Yuden, the inventor of the CD-R, WaterShield discs repel water and protect from wear and scratches.
WaterShield CD-R hub-printable media features the very same qualities as Taiyo Yuden's original discs. With the world's widest record and playback compatibility, you're assured a great disc, delivered perfectly every time.
Fill out the form to receive a free WaterShield CD or DVD printed with your artwork.